Making a Speech? What to Do with Your Eyes?
Here's a video from my good friend, Vocal Coach and Pianist: Sally Morgan who'll give you the skinny on what to do from a tiny audience to a large auditorium full of people. If you're the Best Man or the Matron or Maid of Honor and you hate making speeches: Or maybe you love being the center of attention, but just are clueless as to where you should look, this video is for you.
Snappy Weddings?
Weddings-in-a-Snap or Snappy Weddings can cut down on your overall cost. If you know exactly where you desire to use your money and it has nothing to do with lots of frou-frou or a big party, then perhaps you want to have wedding with a few or pertinent (to you) vendors along with their services. And use that money on an adventuresome honeymoon or buying a new home.
It's your wedding you can have a loooonnnnng engagement while you plan the day of your dreams or a short engagement while you plan your sweet and short wedding day of your dreams. Whatever you decide, you can have it, all within whatever your budget is.  Even if you decide tonight under the full moon (7/12/14), that you'd like to get married in 3 – 5 days from now, it's possible and all within your budget–whatever that may be.
Just because you've made up your mind quickly does not mean you have to be penalized with your quick or wedding-in-a-snap decisions. All in all, it might even be easier and less expensive. Whatever the reason, it is possible to save time, money and energy on the perfect wedding for your short or long engagements.
Love Engagement stories as much as I do?
Here's a couple author's books I truly like and I hope you do too.
 Love Stories: Real Black Men Talk about Love, Marriage & Being a Good Black Man
 Tune into Happy
 Project Everlasting: Two Bachelors Discover the Secrets of America's Greatest Marriages
 Imago Relationship Therapy: An Introduction to Theory and Practice
I was just reading about interracial marriages, and stumbled across this cool engagement article.  See if you get teary-eyed or you just had to say "Ahhhh …"
Engagement Announcement: It Was Meant To Be…
Posted OCT 22 2012 by SHERITAJANIELLE@GMAIL.COM in ANNOUNCEMENTS
Date of proposal:  10/27/2011
Wedding date: 4/13/13
Wedding location: Bal Harbour, FL
How they met…
"It started off with a boy's weekend in New York, Brent and his friends flew over from London decided to have dinner at Revel, the waitress was none other than his future wife. Sherita took a job as a cocktail waitress to help pay for one of mother's lavish vacations to Monaco and on the night before she quit meet my future husband.
We had no idea what would happen as Brent was living in London at the time. Traveling back and forth to see each other was exciting and tearful when our time together was over but, as he said the night we meet, 6 months later he was a New Yorker. It was clear early on that we had found the one. We had an instant connection and through the good and bad times we have fallen deeper in love. We spent our time dating traveling as much as we could, enjoying all the city has to offer ( under 14th st), and spending quiet nights at home watching movies as we do on so many cold winter nights.
Now after 4 wonderful years together we are so happy to become husband and wife."
The proposal…
On the rainy afternoon of October 27th at 4:00pm, Brent and I arrived at Canturi Jewelers to what I thought was an appointment to shop for engagement rings. We were friends with the manager and had visited the jeweler months ago. I thought we were there to see some new styles that had just arrived, but Brent had other plans.  I noticed the window display covered with a black cloth but thought nothing of it…
As I went to window to see the new inventory to my surprise there was Brent unveiling his creative proposal. I immediately burst into tears. As I came back in the store, Brent got on one knee and simply said "Sherita Janielle Rankins…Will you marry me?"
And I SAID YES!
We'll be trying the knot at the beautiful ONE Bal Harbour Resort, FL. in front of close family and friends.
You could take a clue from Gabrielle Union:
HOW IMPORTANT ARE BRIDESMAIDS TO YOUR WEDDING?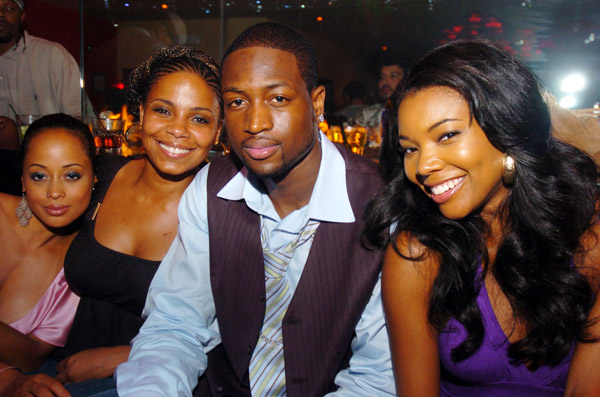 Nearlyweds Gabrielle and Dwayne (shown here with Gabby's buddies Essence Atkins and Sanaa Lathan) are saying no to a wedding party.
Your favorite celebrity bride-to-be Gabrielle Union (sarcasm intended) recently told talk show host Arsenio Hall that she and fiance Dwyane Wade will not have a wedding party. And she's unapologetic about it. Check out what the engaged actress confessed about nixing the tradition:
"There are no bridesmaids and no groomsmen. Trying to wrangle a bunch of broads…somebody wants one type of dress, somebody wants something else, you start to not like them after a couple months. And we're older. This is the second time around. It's us and the kids. We're just riding out…just us."
Triple B supports any couple that does whatever they can to make their wedding about them. That might appear to be a no-brainer but it is much more challenging than most would realize. Gabby's sentiments echo those many brides (especially those over 35) have these days. Bridesmaids, groomsmen and the like can cause the marrying couple additional angst, and possibly costs, during an already stressful time. However in many cases, they decrease stress and some attendants go out of their way to shelter the two jumping the broom from drama so they can best enjoy their big day. Gabrielle doesn't seem to have a shortage of good girlfriends — Essence Atkins and Sanaa Lathan are both BFFs and Dwyane appears to be quite close to his Miami Heat teammates so this decision seems to truly be about doing what makes them happy.
What say you? Are bridesmaids necessary for a wedding? Sound off!
Taken from:
http://blackbridalbliss.com/2014/02/13/how-important-are-bridesmaids-to-your-wedding/#more-13440
Wedding Ceremony is the Beginning
Too often well meaning friends, relatives, colleagues and even the wedding industry make such a big deal out of the wedding day, that often we forget that the ceremony just denotes the start of your new relationship.  Your new life together as married couples.  Yes, you have ended your single-hood, but are just beginning your new journey together as marrieds.  Please don't play up the ceremony so much that you lose sight of the part of your life still yet to explore.  If  you do you will miss out on some extraordinary times.  Extraordinary, because during your first year is really when you discover each other's true nature (Even if you've lived together prior to marriage).
Think About the Future . . . Changes in Self
I found the most interesting website and I thought I'd share a post from it with you.  The website is about long term marriages, with a book and film of the same name:  Project Everlasting.  The post is about how marriage changes you and oftentimes until you are asked about it, you don't even realize how it has.  I hope you enjoy it, as much as I did and get some useful tips for your long-term marriage, too.
Article for Tango Magazine
by Jason Alan Miller
Originally published in 2007
Modified for the PE Love Journal

White tea towels are not exactly a male's first choice in bathroom decor.
I'm standing in front of a bathroom sink in Denver, ready to dry my hands off, when something unexpected happens.
The hand towels make me cry.
Yes, I, a heterosexual male, am admitting that the look and feel of the soft, pastel yellow bathroom towel brings tears to my eyes.  So be it.
But before you label me a melodramatic freak o' the linens, let me explain the back story of how I met Ron and Betty Anne Trapani, in whose bathroom I'm standing, and how their soft, yellow towels help me understand why marriage really does matter.
Last summer, Mat and I were midway through our 2006 Search for America's Greatest Marriages tour when I had the pleasure of interviewing the Trapanis in a Denver jewelry store.  Ron looked like a cornered snake. Clearly, he'd been suckered into something he didn't want to do.  Arms folded tightly across his barrel chest, he eyeballed me like a mafia boss, skeptical of my intentions.
"Why would you want to waste your time asking us about our marriage?" he asked.  "Don't you think you oughta be out there looking for your own?"
As only a wife of 42 years can do, Betty Anne gave him a well-timed elbow to the side and set Ron straight with her Irish accent: "Oh, stop being such a tough ass."
He immediately straightened up, and I knew that I was in for a great interview.
Near the interview's conclusion, as I often liked to do, I asked the Trapanis to share what they appreciated most in one another.  Every couple handled this question differently. Some of them would slough this question off with a quip like, "Well, if he weren't here, who would leave the ice cube tray empty in the freezer any more?" A few couples looked blankly at me as if appreciation were an entirely new concept in their relationship. Many couples offered a list of standard marital deliverables — "he provided for us", "she cooks for me", etc — but most chose not to take full advantage of this question's loaded cue to share deeply with utter humility and gratitude.
Ron and Betty, on the other hand, were not one of those couples.  They each seized the opportunity to recognize WHYtheir marriage meant so much.
Ron — the "tough ass" — went first. Looking intimately into Betty Anne's eyes, dropping his guard completely, he told her how much she meant to him, how proud he was of her for her recent battle with cancer, how happy he was to help her through the terrible struggle.  He shared how he felt like they were best friends in their own little world.  Betty Anne wept as Ron spoke his vulnerable heart, as did each of their seven daughters who all stood listening nearby.
Betty Anne's share was equally special and heartfelt, but for some reason Ron's turnaround from Mr. Folded Arms to Mr. Husband of the Year struck the deepest chords in my heart.
Seven months later, one of the daughters contacted me to ask for a favor: "Will you please rush us a copy of our parents' interview footage?  My mom's cancer has relapsed.  She has a week or two left to live and we'd like to watch the interview together."  My heart cringed at the thought of Ron Trapani alone…without his soul mate.
Which brings me to today, to the Trapani bathroom and those cutesy yellow hand towels.  Mat and I are speaking in Denver this weekend, so one of the Trapani daughters invited us to join them for a family barbecue.  Betty Anne passed away about two months ago. Her presence in the home is palpable.  One of the daughters related to me how her mother had spent the last two weeks of her life in her bed, talking to each of them with joy, pretending to be strong when everyone around her was breaking down.  She read each of the love letters Ron had written to her during their courtship and giggled at how difficult she'd made it for him to win her heart.  Each of the daughters surrounded the bed as Ron held her for her last smile, her last breaths.
None of that is responsible for these tears on my cheeks though.  I felt sadness overcome me as she told the story, sure, but it wasn't until now, as I go to wipe my hands dry in Ron and Betty Anne's master bathroom, that it finally hits me: Ron Trapani, Mr. Tough Guy himself, would never in his life choose soft, pastel yellow towels for his bathroom.  I look around the bathroom, tears streaming down my face, taking closer notice of the bathroom's décor: it is the furthest thing from a "bachelor's bathroom".  "No matter what he tried to show me during that interview last year," I whisper, "he allowed himself to be influenced.  He allowed himself to love his wife with everything he had in him.  This is a man that allowed a woman in."
I really want to be that man. And you know what? I'm realizing that one really just needs to choose to be that man (or woman). How do we spend our limited moments with one another…with jokes and witty sarcasm? With routine conversations and hurried kisses? Or…with pause for deeper reflection and words and embraces that actually mean something?
Why does marriage matter to me?  Because loving someone deeply influences me to be a better person.
And sometimes a soft, pastel yellow hand towel is the symbol of this interpersonal journey's completion.
It's now that special romantic month:  February 2013
How about going somewhere special for your Valentine's night.  A dinner for two at Neirs Tavern, 8748 78th Street, in Woodhaven Queens 11421.  Call 718 296 0600, to snap up one of the last reservations.  Enjoy the musical stylings of the Carla & Curtis (with the Dilletantes) singing  love songs.  What could be more fun AND romantic?  
A friend of mine sent me this wonderful seminar.  If you are at that stage in your relationship where you know you love the person, but just can't push yourself forward, even though you know you want to, you may want to participate in this webinar.Anastasia is a romance coach for women who are looking for love, but struggle to feel worthy of receiving it.
She helps women overcome wounds to their self esteem which unconsciously repel their beloved & keep them in disempowering dating patterns.
She'll be hosting a free call this Thursday where she'll be teaching women how to heal their wounds & channel their sensual, feminine nature through their heart again to create a magical life of love, romance & the happy fairytale we all hope for since our childhood.
Together we will transport you to a magical world of fantasy, romance, and enchantment, where true love conquers all & dreams really do come true!

On this FREE Call, you will learn how to:

Free yourself from the anxiety of disempowering dating patterns
Realize the #1 reason the men you attract won't commit & aren't Prince Charming
Uncover the "sensual mistake" most women are making & how to shift your sensual power so you are attracting the fairy tale love & life you truly crave
Awaken your inner sensual princess & see how she is there to assist you to receive the romance & royal lifestyle you deserve
To register, fill in your name & email address below:
About Anastasia
Anastasia-Violetta Scarlett Belle is a romance & royalty mentor for women. She helps lonely princesses around the world realize their worth, step into their princess power, & open to a fairytale life full of unlimited opportunities for magic, dreams and epic love.
Through her own learning journey, she realized that the path to attracting true epic romance begins by truly falling in love with yourself.
Having transformed her own struggle with body image, dysfunctional family dynamics, and disempowering relationship patterns, she now supports other women to channel their feminine charm to awaken their hearts & be of deeper service to humanity, as they cherish their body & femininity, manifesting the fairytale love & life they truly deserve.
P. S.  I am not at this time receiving financial gain if you decide to take the call.
How Do You Know He Likes You?
Maybe you're not engaged yet and trying to still determine the man you've been dating for awhile REALLY likes you.  Or maybe you just started dating and want to know if it's even worth going on with the relationship.  For the next couple of months I thought I'd include five to ten of the ways you can tell.  Keep in mind there should be at least a total of 30 of these before it is in the affirmative:
1.  While you're with his or even your own friends and someone asks him a question, he answers the question(s) looking directly at you.
2.  Eye contact upon first meeting of you – rubs his cheek with back of fingers, rubs his chin, and touches his ears.
3.  Arrives on early or time especially when going to movies or theatres or concerts or any show.
4.  He's watching the big game, you call and he either mutes the game or turns it off to take your call.  (Savor it.  May be one of the last times.  Takes between three months to a year for it to wear off.)  My suggestion:  Find out who/what his team or sport is and don't test him.  Think of a show you wouldn't want him to call you during.
5.  You're in a group and he nine times out of ten is beside you and talking only to you.  (To the point that your friends are feeling left out.)
6.  He suggests things that he knows you like to attend, so the two of you can do these things together.
7.  His voice cracks or he can't get his words out intelligently when you approach.  (This is before a declaration has been spoken to you.)
8.  Acts normally within a group, but becomes shy and quite quiet when the two of you are alone together.
Perusing the web, I found this article that I thought you'd enjoy it fits for both your engagement prep and from a man's point of view.  Erin gives you low, medium and high price proposals, to make your choice easy.  Check it out, I think you'll enjoy it.
Blueprint Proposal's Guide to Proposing in NYC on a Budget
How to make the moment she says "I do" last forever.
Amazing. Enchanting. Nerve-wracking. Life-Altering. Expensive.
Proposing marriage to the love of your life is likely to invoke all of these words.  As a man, it is one of the most gallant acts you'll ever make and when everyone learns of your recent engagement they will gleam with excitement, then immediately ask, "How did you do it?"
Weddings have become a billion dollar business in the United States with over-the-top extravagance and months, sometimes years of planning.  When celebrating a lifetime of marital bliss, the average wedding runs about $27,000.  And that's less than 12 hours of full-on celebration.  So much attention, these days, is spent on every moment leading up to saying "I do," but so many overlook the truth that without a proposal there would never be a wedding in the first place.
From friends and family flash mobs to full on YouTube productions, there's no surprise that marriage proposals have joined the procession to become a focal point and sometimes pricey affair.  It's easy to see how some get caught up in all the excitement of a perfect proposal, but ultimately it will be a moment and memory—a story that they will always be able to tell—which you will give the person you love when asking for their hand in marriage.  Gentlemen, remember, this is your time to shine.
But have no fear struggling actors! Grad students! Cheapskates!  Blueprint Proposals, a boutique event planning company specializing in marriage proposals, is here to offer expert advice and tips for creating a champagne and caviar proposal on a ramen noodle budget.
Disclaimer:  When it comes to the ring, you're on your own.  As women (one single, one not) we are more than understanding when facing financial limitations versus female expectations.  Yet, when you do decide to put a ring on it, keep in mind there's no understanding for a budget diamond.  Save wisely, spend wisely gents.
$10—Let NYC do the planning!
So the Lincoln Center isn't available to rent for the evening. As it turns out there are infinite places that are just as magical and perhaps meaningful when it comes time to ask away.  New York City is full of free (yes, free!) gems that can be picture perfect for popping the question.  Whether it's an intimate picnic on the New York Highline or revisiting the coffee shop where you first met, let this low-cost proposal speak more strongly towards deep sentiment than dollars and cents.
Budget-friendly ideas:
An evening in and candlelight dinner that you've prepared (or at least carried in) followed by a special slideshow you've prepared telling your love story in third person.
A walking tour of every spot across the city that reminds you of your love.  Plan ahead by having a bodega prepare flowers and ask the owner of her favorite bakery to sneak the ring on top of a sweet treat!
 $100—Use insider tips to find great deals!
You've got an extraordinary ring for an extraordinary girl, so planning to do something a bit out of the ordinary is the natural instinct.  However, out of the ordinary won't have to mean big bucks when it comes to the plans.  It's 2012 and you can barely check Facebook without some type of daily deal or group coupon popping up.  Keep your eye out for the NYC deals for special offers from all her favorite spots.  Start with surprise like a special massage from a spa they've probably mentioned in passing using a daily deal.  Tasting menus and wine pairings make for memorable meals, thanks to the 50% voucher you purchased weeks ahead at that restaurant you've always wanted to try.   End the evening with a stroll through Central Park as you share some chocolate truffles you picked up from, yep you guessed it again, another group coupon.  She'll swoon at each piece and personal touch you give while your wallet takes a giant sigh of relief.
Somewhat budget-friendly ideas:
Tickets to an off-Broadway show run less than $50 and the "not-quite-on-Broadway" theater may be willing to get in on your scheme.  Proposing after a curtain call? She'll say "I do! I really, really do!"
Take in the beautiful city lights on an Adirondack cruise around Lower Manhattan. You'll skip the hefty ticket prices and huge crowds of tourists on the big cruise boats that pass by and you can propose with your own BYOB meal while taking in the stunning skyline.
 $1000—Spend big … spend well
So you're going all out, over-the-top, unbelievably big. There's as much potential for romance in New York as there is for a shopping spree at Saks Fifth Avenue.  However, just because your budget is bigger, there's always the chance it may not be better.  It will still serve you best to employ the aforementioned thrifty tactics and get more for your money by incorporating DIY touches with classic NYC staples.  Only in New York can you leave the start your evening with a glass of champagne followed by the opera and end it with a hot dog or soft pretzel on a bench in the Village.  This is a city of high and low brow, so if you have something over-the-top to start remember this proposal may set the tone for the entire wedding process so bring it back down to reality and make it memorable, make it about both of you.
Not-so-budget-friendly ideas
 The chef's private tasting menu at Per Se? Go for it, go all out!  Just make sure you've got her friends at the Landmarc bar (your tab of course) for you to surprise her with an impromptu engagement party for after she says yes.
Not so tech-savvy, but a true romantic?  Use your money to hire a videographer or photographer to capture the big moment as you get down one knee.  The money will be well worth the memories it will provide and a special gift you can always give the night before your wedding.
 Consider using your year-end-bonus to include the special people in both your lives.  You'll get extra brownie points for flying in the parents and best friend from Alaska, too.
Read more at http://goodmenproject.com/the-good-life/weddings/the-good-life-blueprint-proposals-guide-to-proposing-in-nyc-on-a-budget/#K3XwZz4IKqsUTXGA.99
A friend of mine told me about this website and I 've been perusing it for about 3 months now and I like it.  I thought you would too, especially if you are in that stage of your relationship that you want to go further than just dating or your fiance' seems to be on the brink of something more.  This is information from a man's perspective of just how to get that ring.  Not a promise ring, but an engagement ring.
Here's a few of his titles:  Attract him.  Get Him To Commit.  Warning Signs.   Tell me what you think.
 http://girlgetsring.com/137bf60f3fc2feb5/
This is abbreviated tip # 8.
How's life treatin' you? Great I hope!
Travis stopping by with a question for ya…
Have you ever traveled somewhere you were not familiar with?
Maybe just an area you've never visited before, right there
in your own home town?It happens to lots of folks, and it seems like it's even worse
if you're traveling out in the country, on rural roads. You'll
come to the end of a road and have to decide whether to turn
right or left, and sometimes there's no indication about what
you'll find in either direction.Here's the problem with that…If you turn one way, it could take you in the direction you
want to go in order to arrive at your destination. But making
the wrong decision and taking a different turn could be leading
you further and further away from where you want to wind up.Don't you think it would be a lot easier if the roads were
clearly marked? If there were signs all along the way so you
would know you were still traveling in the direction you wanted
to go in?That sure would make your decision about which way to go a lot
easier, wouldn't it?That's what today's keyword list is all about and you'll find
it on website above – Girl Gets Ring.Women are constantly looking for 'signs' from their man to help
them know whether the relationship is still moving in the
direction they want it to go.They want to know the signs that indicate he's falling in love
with them, or that he's going to break up with them, or that
he's getting ready to propose.By knowing what some of the signs are, it helps them determine
what they need to do next,and the direction they should take
in the relationship.
By Travis.
That's right this is from a man's point of view on how to get him to pop the question.  And yes, he is trying to sell you his book, which in the long run can be helpful.  Check out his website up above and let me know what you think.